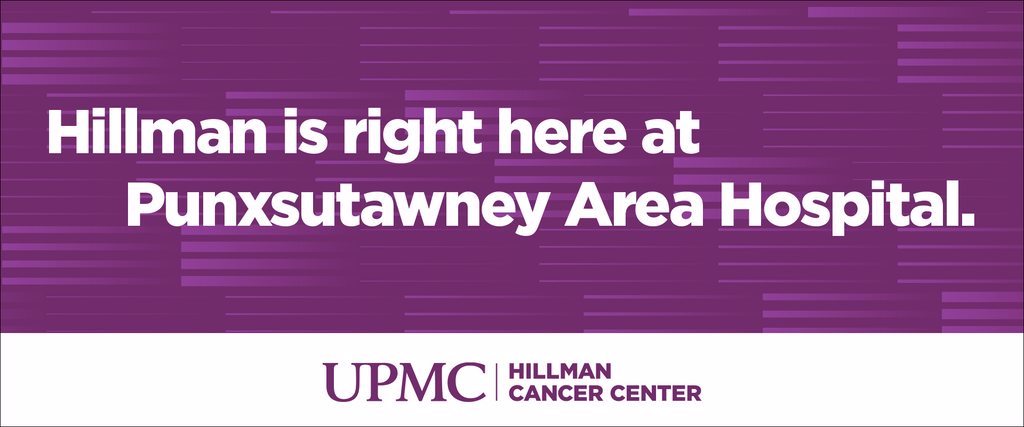 UPMC Hillman Cancer Center, Punxsutawney Area Hospital, provides world-class cancer care, right in Punxsutawney, PA. Conveniently located on Hillcrest Drive, we specialize in medical oncology.
UPMC Hillman Cancer Center has partnered with community-based hospitals throughout the region to develop one of the largest integrated community networks of cancer physicians and health care specialists in the country.
To schedule an appointment, call the numbers provided or coordinate a visit with your primary care physician. We accept most insurance plans.
Office Hours
8 a.m. to 4:30 p.m., Monday through Friday.
Punxsutawney Area Hospital
81 Hillcrest Drive
Punxsutawney, PA 15767
Phone: 814-938-5212
Fax: 814-938-2037
Treatment and Support Services
The following treatment services are available at UPMC Hillman Cancer Center, Punxsutawney Area Hospital:
· Biological therapy administration (BRMT)
Colony stimulating factors (CSF)

Experimental drug treatments

Interferon (IFN)

Interleukin

Monoclonal antibodies (MoAb)
UPMC Hillman Cancer Center, Punxsutawney Area Hospital provides the following supportive care services:
Financial/insurance counseling

Support groups/psychosocial counseling

Symptom/side effects management

Transportation services

Nutritional counseling

Palliative care

Social services
Available specialties: Medical Oncology, Hematology
Our Doctors: Boriana S. Kamenova, MD, Gopala Amar Ramineni, MD