TRANSITIONAL CARE SERVICES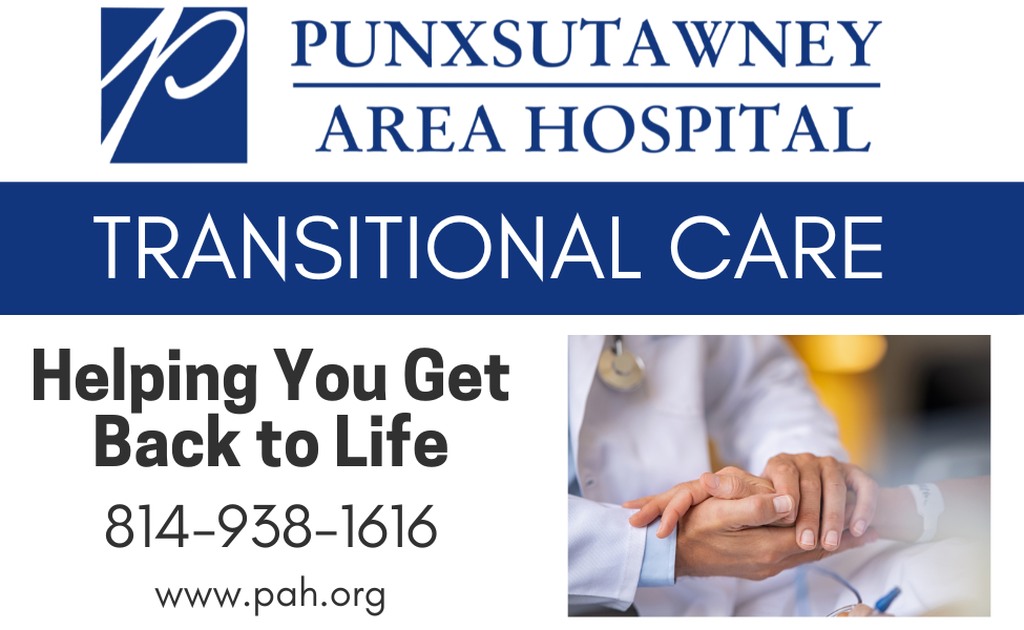 Transitional Care at Punxsutawney Area Hospital is a service designed to provide additional skilled care to those needing more time to heal following an acute hospital stay, prior to returning to their home environment. This service allows patients to move from acute care to skilled rehabilitation in the same facility ensuring continuity of care by the same physicians, nurses and therapists.
Our transitional care program provides the same services as the skilled nursing units at other facilities. If an emergency arises during their rehabilitation, patients can return to the acute care unit of the hospital.
Any patient who no longer needs acute care but is not ready to be discharged to their home can benefit from this service. Some examples include:
Patients recovering from major surgery, joint replacement or abdominal and vascular procedures;
Patients recovering from a major accident or stroke;
Patients with wounds requiring special care, IV/or antibiotic therapy.
Acute care patients who have been hospitalized at PAH or another hospital for a minimum of three days and who need additional monitoring are eligible for transitional care services. The average length of stay is 10-14 days; however patients may stay as many days as needed. Family members are encouraged to visit.
The following services may be provided to patients in the Transitional Care Unit:
Daily physician visits
Skilled Nursing Care
Physical, Occupational & Speech therapies
X-ray and laboratory testing
Dietary services
Respiratory therapy
Emergency dental services (after deductible has been met)
Family care plan meetings
Transitional care is often covered by Medicare and many private insurance plans.
For more information on Transitional Care services at PAH, please call Kelli Lott at 938-1616.