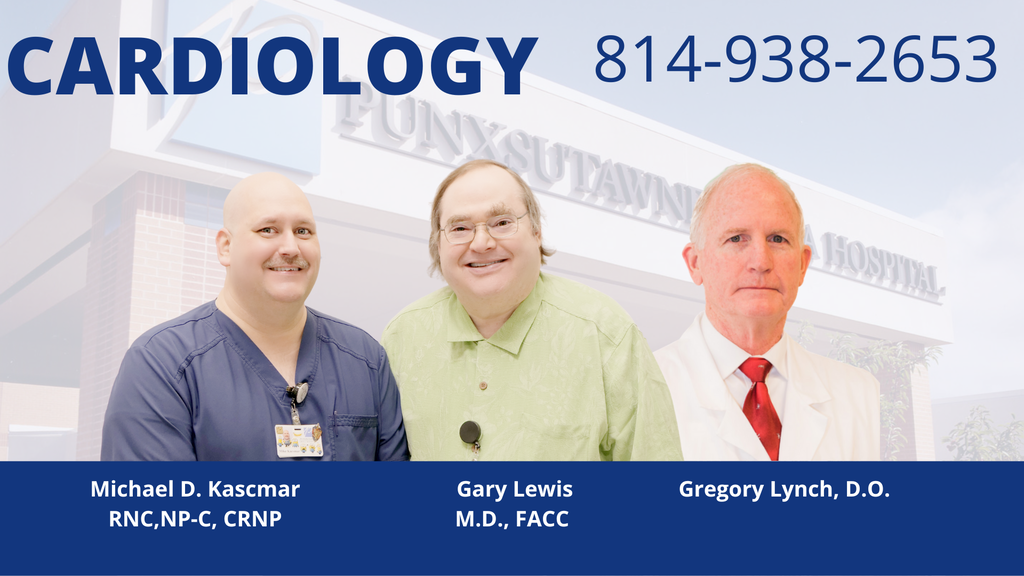 The Punxsutawney Area Hospital Cardiology Department offers patient-centered cardiovascular medicine and diagnostic testing in one convenient setting. For both routine and more complex heart and vascular conditions, our team provides comprehensive services utilizing the most advanced technology, treatment and care options to ensure the highest quality of cardiac care for our patients.
Our multidisciplinary team of board-certified, professionally trained physicians and advanced practice nurse practitioners are committed to providing expert diagnosis, treatments and care for a range of cardiac and vascular conditions to improve the quality of our patients' lives.
At PAH, in partnership with IRMC and Butler Health System Cardiology, our team of expertly-trained cardiac specialists and advanced care providers combine their expertise to provide you the most efficient and compassionate care close to home. Rest assured, our Heart Team works closely with local primary care physicians to ensure the highest level of care to our region.
Punxsutawney Area Hospital will provide compassionate, cardiac care to you and your family.
Cardioversion
Echocardiogram
Event Monitoring
Medication Therapy
Pacemaker and Defibrillator Management
Stress Tests
24-hour Holter Monitoring
Punxsutawney Area Hospital
81 Hillcrest Drive Suite 1200
Punxsutawney, PA 15767
Phone: 814-938-2653
Fax: 814-938-2631
Punxsutawney Area Hospital
81 Hillcrest Drive
Punxsutawney, PA 15767
720 West Mahoning Street
Punxsutawney, PA 15767